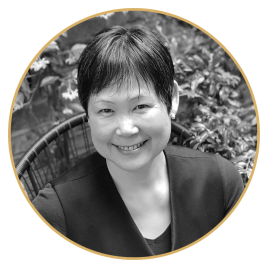 Wei Wu
SrSS MBA
"'We tend to look for answers from the outside, but the answer is actually within us.'"
ALIGNED WELLNESS
Wei Wu is a pioneering London therapist who has developed an innovative Aligned Wellness treatment programme to deliver effective and long-lasting results for her clients.
By carefully aligning a range of treatments that combine ancient wisdom with modern techniques, every consultation and treatment programme is tailored to each individual with immediate results after treatment. 90% of people experience immediate improvement after just one treatment.
Wei has inherited Traditional Chinese Medicine skills and knowledge from her father, a respected medical doctor in Beijing, China. Wei has gained years of clinical experience and has travelled and studied extensively in the West and in Taiwan.
Wei is fully qualified and is registered with the Shiatsu Society as a Senior Member (SrSS). Wei is also a Senior Associate Member of The Royal Society of Medicine. In addition, Wei practices The Alexander Barrie System of Pelvic Correction to correct the alignment of the human body, and has trained under the personal supervision of the founder Alexander Barrie. Wei has also studied and trained in Cold Laser Therapy with Professor Gordon Farmer, Principal at UK Institute for Therapeutic Laser.
YUAN SHI DIAN MEDICINE
Wei is expertly trained in the rare form of medicine, Yuan Shidian Medicine or Yuan Shi Dian Medicine. 'I believe that the Purpose of Medicine is to prolong people's lives and to help the symptoms. Yuan Shi Dian Medicine is a very natural, safe medicine and it is also highly effective in releasing discomfort and symptoms.'
Wei's treatment helps you to ease any discomfort or symptom that you may be suffering from immediately, it alleviates and relieves pain, numbness, itchiness, swelling, insomnia and numerous other symptoms. It can help the body remedy itself of various 'incurable' diseases such as cancers, diabetes, dementia, Parkinson's, arthritis, incontinence, and many more. Patients who have experienced Wei's treatment, almost instantly have a sense of wellbeing, in general by the time they leave the clinic.
'Being a healing Therapist is the fulfilment of a long-held ambition for me. I believe I can help and guide people to gain back their health from all sorts of illnesses. I understand well how the body works, what can go wrong and what we can do to put it right, through appropriate treatments and changing of lifestyle.'
'We tend to look for answers from outside, seeking help from different professionals, but the answer is actually within us.'